Do you want to literally see what you will look like with a breast augmentation?
We proudly offer Crisalix state-of-the-art 3D imaging during breast augmentation consultations to help you select the right breast implants and visualize your new look.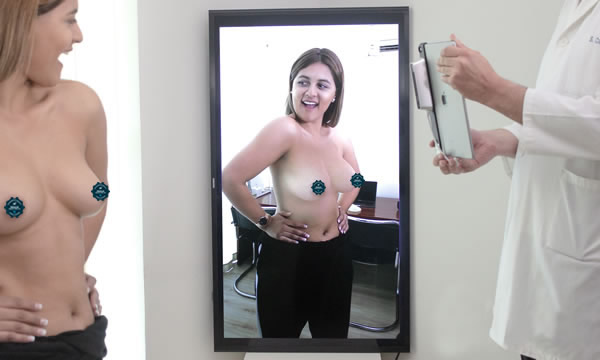 Choosing the ideal size breast implants is at the very top of a woman's priority list when planning her breast augmentation, and understandably so. After all, one of the main goals of this procedure is to enhance breast volume, so picking the right size is certainly important.
With that said, making a decision about implant size can be much more involved than patients might realize, which is why using 3D imaging can be so helpful.
At Petrungaro Plastic Surgery, we are one of the few practices to offer you 3D before and after simulation technology, including Virtual Reality and Augmented Reality consultations where you can see your new breasts in real time using VR goggles or from head to toe through a virtual mirror!
Understanding breast implant profiles
In addition to choosing an implant size, you're also going to have to decide on an implant profile. This refers to the amount of outward projection from your chest your implants will have. For example, a high profile implant will have the most projection, while a low-profile implant will project the least. Moderate and moderate plus profiles are right in the middle.
Most women are candidates for moderate and moderate plus profiles. However, women with narrow chests may see very nice results from high profile implants, and those with wider chests may find low to moderate profile implants are better suited to them. Comparing breast implant profiles is another factor that 3D imaging can help you visualize.
Get scanned by Dr. Petrungaro or start from home

To generate your 3D images you can either be scanned during your consultation or you can start at home by uploading 3 "before" photos of yourself and then create, modify, and discuss the 3D "after" photos with Dr. Petrungaro during your consultation.
Visualize your new breasts in 3D
In a matter of seconds your 3D images will be generated and you will be able to "try on" every type of breast implant that you desire until you find your favorite look!
Choose between various sizes, shapes, and profiles of breast implants to help visualize how your final breast augmentation results could look on your body.  Results are displayed for you in three ways: on our large 12.9 inch tablet, using Virtual Reality goggles, and projected onto a large TV screen using Augmented Reality technology.
Access 3D remotely
At the end of the consultation Dr. Petrungaro will give you access so that you can view your before and after 3D images from home on your own device and even share them with friends and family to gain more advice and opinions.
Why choose Plastic Surgeon Doctor Jason Petrungaro?
Doctor Petrungaro is a board certified Plastic Surgeon who has successfully completed many years of surgical training in all aspects of breast augmentation surgery. He is well versed in the established traditional methods as well as the latest and most innovative techniques in breast implant surgery. He listens to his patients and respects their goals and wishes, and will always go the extra mile to deliver the most beautiful results possible.
If you are searching for a Plastic Surgeon who can provide you with powerful results from your breast augmentation coupled with the highest standards of patient safety and care, NW Indiana and Chicago area board certified Plastic Surgeon Doctor Jason Petrungaro will be happy to consult with you regarding this rejuvenating procedure. Visit with Doctor Petrungaro in our Munster, IN office for an hour — you will leave knowing you have found the perfect partner in your quest to achieve a youthful, refreshed look!
If you are interested in a 3D imaging breast augmentation consultation or have questions, please feel free to call Doctor Jason Petrungaro at (219) 836-1163 or click to schedule a consultation online.
Request a 3D consultation with Dr. Petrungaro: (219) 836-1163