Tummy Tuck
Weight loss, weight gain, aging, and pregnancy can have a negative effect on the appearance of your tummy. For most patients, loose skin, excess fat, and stretched out abdominal muscles won't fix themselves: to recapture that flat tummy you will need a surgical tummy tuck, also known as an abdominoplasty. Let board certified Plastic Surgeon Doctor Jason Petrungaro help you complete your weight loss journey or return you to your pre-pregnancy form with a high-quality tummy tuck, one of the most rewarding procedures in the field of Plastic Surgery.
Why choose tummy tuck surgeon Doctor Jason Petrungaro?
Doctor Petrungaro is a board certified Plastic Surgeon who has successfully completed many years of surgical training in all aspects of tummy tuck surgery.  He is well versed in the established traditional methods as well as the latest and most innovative techniques in abdominoplasty.  He listens to his patients and respects their goals and wishes, and will always go the extra mile to deliver the most beautiful results possible.
If you are searching for a Plastic Surgeon who can provide you with quality results from your tummy tuck coupled with high standards of patient safety and care, Northwest Indiana and Chicago area tummy tuck surgeon Doctor Jason Petrungaro will be happy to consult with you regarding this wonderful procedure.  Visit with Doctor Petrungaro in our Munster office for an hour — you will leave knowing you have found a great partner in your quest for a slimmer, healthier look!
If you are interested in a tummy tuck and have questions or concerns, please feel free to call Doctor Jason Petrungaro at (219) 836-1163 or click to schedule a consultation online.
What is a Tummy Tuck?
Tummy tuck surgery, also known as abdominoplasty, is an extremely powerful surgery that restores a youthful and trim abdominal profile by surgically removing excess skin and fat combined with a repair of the underlying "stretched out" abdominal muscles. In addition, the belly button is moved or "transposed" into a more anatomic and aesthetic position on the abdomen. Skin damaged by stretch marks caused by weight gain and pregnancy can be removed during the procedure. Liposuction may also be used to achieve an even flatter tummy and to remove excess fat from around the hips.
Before and After Photos of Tummy Tuck
*Your results will vary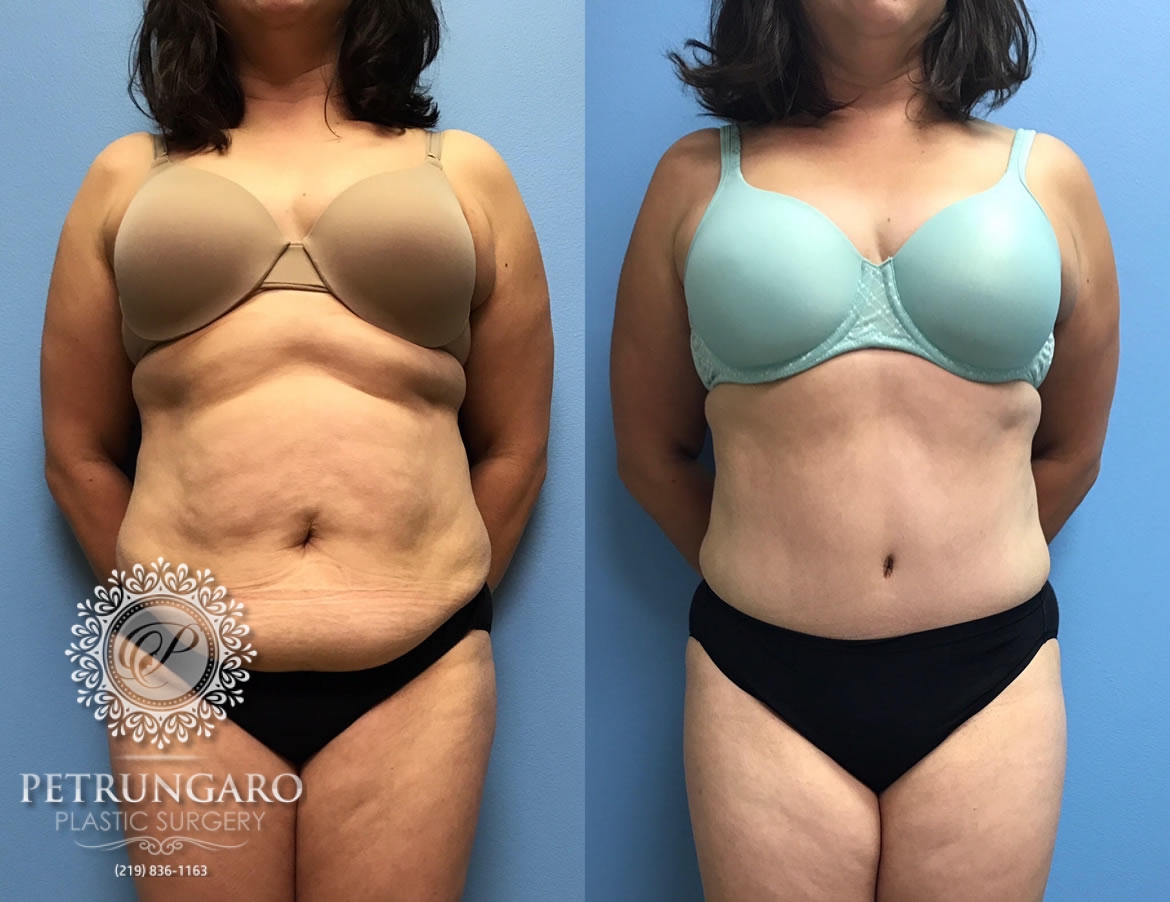 What is a "mini" tummy tuck?
If you are close to your ideal weight but have not been able to get rid of the small pouch of skin and fat below the belly button, a mini-tummy tuck may be right for you. This procedure is designed only for the area below the navel and tightens the muscles in this area; however, in very select cases it is now possible to tighten above the belly button. Northwest Indiana and Chicago residents love the mini tummy tuck because of less downtime, easier recovery, and dramatic results. Additionally, it avoids the incision around the belly button. It is very important to note that the vast majority of patients seeking a tummy tuck are NOT candidates for a mini tummy tuck and will require the full, traditional abdominoplasty.
*Your results will vary.
Who is a candidate for tummy tuck surgery?
This procedure is for men or women who have significant loose, hanging skin, stretch marks, and stubborn pockets of fat in the abdominal area that they cannot get rid of through diet and exercise. You are a good candidate for this procedure if:
You are in good health
You are at or near your ideal weight
You are finished having children
You do not anticipate any future large fluctuations in weight
You have a realistic expectation of results
You are bothered by stretch marks or excess skin and fat on your abdomen
In addition, tummy tucks can be combined with breast augmentation surgery, breast lifts, and other procedures during a "Mommy Makeover."
Tummy Tuck Procedure
This is a surgery done under general anesthesia, and it takes around 3 hours to complete*. Prior to entering the operating room, Doctor Jason Petrungaro will draw surgical markings on your abdomen, planning the length and position of the incision based on the amount of excess skin that will be removed. The incision will be made so it is under the bikini/brief line and well-hidden by clothing, a bathing suit, or underwear. There will also be an incision around the belly button. A Tummy Tuck is almost always paired with extensive liposuction of the upper abdomen, waist, and back in a procedure called "Lipo 360."
During the procedure, Doctor Petrungaro first performs liposuction of the abdomen, waist, and back if Lipo 360 was planned with the Tummy Tuck. He will then make his incision, typically from hip to hip, and then lift the excess skin and fat off the abdominal wall all the way up to the breast bone. At no point in this procedure will the inside of the abdomen be entered. The belly button will remain attached to the abdominal wall, but an incision will be made in the skin in order to free it from the skin being removed. The underlying stretched abdominal muscles are brought back together with stitches in a process known as "plication" and then the excess skin and fat of the belly are surgically removed. The upper skin section is then pulled down and stitched to the lower incision line. Your belly button will be relocated to the correct position at this time. There are typically 2 drains placed which will be removed in the clinic in 5-7 days*.
After the procedure you will be taken to the postoperative recovery unit in the hospital or surgery center. There the postoperative nurses will help you wake up from anesthesia and treat any immediate pain. Once postoperative recovery is complete, the patient has the choice of either going home or staying in the hospital overnight for monitoring and pain control. The majority of Doctor Petrungaro's patients typically go home the same day. The decision to go home or stay overnight is made in the preoperative consultation.
SPECIAL: $500 OFF Tummy Tuck
Tummy Tuck Recovery*
Full recovery from a tummy tuck takes about 6 weeks*. You will be expected to take at least one week off work and relax in the comfort of your home. It is important to have family or friends that can help you with basic tasks such as sitting, standing, and laying down for the first 2-3 days*. Swelling and bruising are to be expected but will begin to resolve after the first 2 weeks*. Pain is typically very well controlled by oral prescription pain medications. You will see immediate changes in your abdominal profile, and it will continue to improve as swelling decreases in the first few months.
During the first 2-3 days you will be required to walk bent over at the waist because of the tight closure of your belly skin*. After this time, your body will naturally relax and you will be able to stand upright. You will be encouraged to walk around as soon as possible to prevent any complications such as forming bloodclots in your legs and to speed the healing process. There are no major dietary restrictions, but you should avoid food that might upset your stomach. It is also important to eat foods high in protein, as this will help with wound healing.
You will wear a compression garment for 2-4 weeks* to help reduce surgical swelling. For the first few days you can elect to have sponge baths, but if you would like to shower it is allowed after 24 hours. All strenuous activity (running, sports, yoga, etc.) is absolutely restricted for 6 weeks. During the 6 weeks of recovery, you will see Doctor Petrungaro in the office multiple times to make sure you are doing well and the wounds are healing nicely. As mentioned earlier, the surgical drains are typically removed in the office at 5-7 days.
Tummy Tuck Results*
It is important to adopt and maintain a healthy diet and lifestyle to insure that your results will last and that you love your new look for years to come*.  A tummy tuck is among the most gratifying Plastic Surgery procedures offered today, and nearly all patients are ecstatic with their results after surgery.
Client Testimonials
*Your results will vary.
Amazement with the Healing and General Outcome

My highest regard, trust and respect for this surgeon. He delivered what he promised and changed the life and self esteem of this 66 yr. old. Office staff is the best and most helpful and watchful. Planning my next procedure and recommend him highly. Had a tummy tuck and my amazement is with the healing and general outcome because of his skill. I don't believe Beverly Hills could have done better.
Dr. P is Simply Awesome !

Almost five years ago, Breast cancer took my right breast. Jan. 2014 the BRAC 1 gene took my left breast. Thanks to Dr. Jason Petrungaro, he gave them back to me. The diep flap surgery took 15 hours due to chemo making my blood vessels brittle on my left side. He took a vein for my leg and moved it to my chest to give my left side new blood supply. He is the best doctor in the world ! He is my Hero ! He didn't give up when surgery took 15 hours ! He did the job I asked him to do, and kept me safe ! Now I have a tummy tuck and two BEAUTIFUL BREASTS !! Thanks You ! Thank You ! I will never forget you ! He is simply awesome!
Request a consultation with Dr. Petrungaro: (219) 836-1163
$500 OFF your Tummy Tuck when you call now.