What is UltraShape?
UltraShape is the first and only FDA-cleared, non-invasive body-shaping procedure that uses focused, pulsed ultrasound for selective fat-cell destruction. It's not like anything out there, and it is now available at Petrungaro Plastic Surgery!
Unlike liposuction, UltraShape is non-surgical—which means no incisions, anesthetics, or recovery time.
And unlike other fat-reduction procedures that use heat or freeze fat, UltraShape is painless and leaves no visible signs of treatment. So you can hit the doctor's office, then hit your yoga class in a cropped top the same day.
All you're left with are smooth, contoured results, often seen as quickly as 2 weeks after the first treatment. No wonder UltraShape has a RealSelf rating of over 90%.
What will UltraShape Do? (And what it won't do.)
UltraShape eliminates fat cells permanently. It differs from weight loss, which can only shrink fat cells.
What UltraShape won't do is cause you pain or harm surrounding tissue, nerves, or muscle. No wonder a clinical study showed 94% of people treated were satisfied with their results. Tell that to your personal torturer—er, trainer.
Before and After Ultrashape Photos
Before

Before & After UltraShape

After
The science behind the slimming…
UltraShape ultrasound energy superheats and destroys the fat cells in the area of your body being treated, releasing the fat in the form of triglycerides. The triglycerides are then processed through the liver and eliminated from the body naturally. The surrounding tissue, nerves, and muscle are left unharmed.
The UltraShape Procedure
The UltraShape procedure is a pleasant, relaxing experience. It's nonsurgical, so there are no incisions or anesthetics.
After you and Doctor Petrungaro determine the exact treatment area, a specially designed belt will be wrapped around your abdomen and a soothing gel will be applied onto your skin. Doctor Petrungaro or his nurse will glide the UltraShape transducer over the treatment area, gently delivering painless ultrasound pulses. Treatments take an hour or less, so you can take it easy, while UltraShape takes care of your excess fat.
The Skinny on Stubborn Belly Fat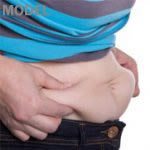 There are two major types of fat in your body: visceral (fat that forms around your organs) and subcutaneous (fat that forms under the surface of your skin).
While eating right and working out can help reduce visceral fat, subcutaneous fat can be difficult to lose. UltraShape targets and eliminates stubborn (subcutaneous) belly fat that's resistant to diet and exercise.  UltraShape does not treat visceral fat.
Why choose non-invasive body contouring specialist Doctor Jason Petrungaro?
Doctor Petrungaro is a board certified Plastic Surgeon who has successfully completed extensive training in all aspects of non-invasive body contouring. He is well versed in the latest and most innovative techniques in non-invasive body contouring, and he is the exclusive owner of the only UltraShape and VelaShape machines in northern Indiana and the south suburbs of Chicago. He listens to his patients and respects their goals and wishes, and will always go the extra mile to deliver the most beautiful results possible. If you are searching for a Plastic Surgeon who can provide you with noticeable results from your non-invasive body contouring procedures coupled with the highest standards of patient safety and care, Northwest Indiana and Chicago area non-invasive body contouring surgeon Doctor Jason Petrungaro will be happy to consult with you and help you achieve that slimmer, healthier look that you have been seeking!
If you are interested in Ultrashape and have questions or concerns, please feel free to call Doctor Jason Petrungaro at (219) 836-1163 or click to schedule a consultation online.
26yo Mother of 2 - Munster, IN

I was extremely comfortable with my decision after my first consultation. He answered all of my questions and even questions I didn't know I had! He was very thorough and didn't make me feel like I was wasting his time.
⭐⭐⭐⭐⭐

I chose Dr. Petrangaro because of his warm demeanor. He's easy to talk to. Looking at the results photos online was reassuring too. He took the time to answer all my questions. The Best.
Request a consultation with Dr. Petrungaro: (219) 836-1163