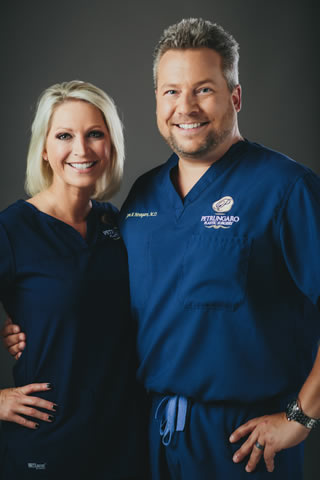 Are you interested in having plastic surgery in NW Indiana with Dr. Petrungaro? Does travelling for his expertise seem overwhelming? Allow our experienced staff to walk you through a process that will provide complete care and a pleasant experience. Many of our patients travel from outside of NW Indiana/Chicago to see Dr. Petrungaro for their cosmetic surgery. In response to our patients' needs, we've developed the Virtual Consultation. The Virtual Consultation allows you to share information about your current condition and discuss desired surgical outcomes with Dr. Petrungaro, before you travel to Munster, IN near Chicago for your cosmetic surgery.
VIRTUAL CONSULTATION or FACE TO FACE VISIT
FLY-IN FOR A PERSONAL CONSULTATION
For those who can afford to travel and/or who prefer to meet with the doctor and staff in person.
VIRTUAL CONSULTATION
For those with limited time and/or who are looking for a cost-effective way to meet Dr. Petrungaro and team to discuss their improvements desires.
During you consultation, the doctor will discuss your desired improvements and assess your overall surgical candidacy. After the consultation is complete, our patient care coordinator will review the proposed surgery, discuss all surgical fees and expenses, walk you through your financing options if desired and review required preoperative testing for safety. We will also suggest hotel and/or post-operative care accommodations and expected length of stay in NW Indiana.
SCHEDULING
The scheduling process begins when you decide that you are comfortable with your tailored surgical plan. Our Patient Care Coordinator will discuss available dates with you. A deposit will be required to reserve dates, and final payments will be due two weeks in advance of your surgery.
The Monday before your surgery will be spent in our office and will include a directed physical examination and visit with Dr Petrungaro, pre and post-operative instructions, a preoperative photo session and time to re-review and sign all consents.
You will have received your consent forms for leisure review in a packet mailed to you after scheduling. The next morning, surgery will be performed in one of our partner surgery centers. The day after surgery, you will have your first postoperative visit with Dr Petrungaro.
RECOVERY
Out of town patients must plan on staying in NW Indiana or Chicago for a minimum of 7 to 10 days after their surgery. The length of stay is dependent on the amount of surgery performed and may be adjusted for your anticipated recovery needs. We take care to ensure a healthy and safe recovery. Your postoperative visits will be spread out over your time with us. In the event that we would like for you to be seen by a physician after returning home, we will arrange referral to a local physician for check-ups.
Please contact our office at 219-836-1163 or fill out our form to book your Virtual Consultation.
We are excited to have the opportunity to share in your personal improvement and look forward to providing the top notch experience you deserve!